Discover & Go
---
About Discover & Go
Use Discover & Go with your Sonoma County Library card number and PIN for free or discounted passes to museums and more.
The Discover & Go program (reduced-cost museum and cultural destination passes) is not available with an eCard due to specific legal agreements with participating attractions.
You can search for passes by date or by location.
To reserve a pass, you must be at least 15 years old and you must live in Sonoma County. You may have up to 2 reserved passes per library card at a time.
You may cancel a reservation if you have not printed the pass (once printed, it is not able to be cancelled).
Every venue determines how many tickets they make available, and at what discount level.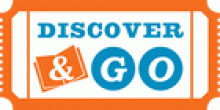 Questions? Need Help?