E Street Studios - Camera Catalog
---
About E Street Studios Camera Catalog
To reserve E Street equipment for Curbside Pickup go to the E Street Studios Request Form.
E Street equipment check in/out is Mondays from 10 am-4 pm.
You are invited to our monthly virtual Media Maker Meetup on the last Wednesday of every month from 6-7pm.
Meet and connect with other videographers, photographers, podcasters, designers, sound artists, and others who are curious about making media. Find out what projects people are working on right now. Talk about ways to collaborate. Ask questions and get answers!
Please register via the Calendar of Events or email: estreet@sonomalibrary.org for more information.
A complete list of camera equipment and accessories is listed below.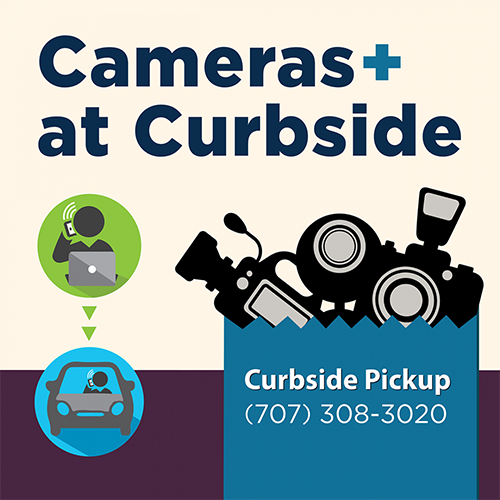 ---
---
Lens Library
---
EF-M 32mm F1.4 Lens
Standard (51.2mm equivalent), good for portraits. For use with Canon M50.

Available: 2
Lens: ($449)
EF-M 28mm F3.5 Lens
Standard (44.8mm equivalent), good or macro photography, ok for landscapes, portraits, and street photography. For use with Canon M50.

Available: 2
Lens: ($279)
EF EOS M Mount Adapter Lens
The Mount Adapter EF-EOS M allows Canon EF and EF-S lenses to be mounted on the Canon EOS M Digital Camera. It is fully compatible with all lens functions, including image stabilization and autofocus.

Available: 8
Lens: ($159)
EF-M 22mm F2.0 Lens
Wide angle, good for street and landscape photography. For use with Canon M50.

Available: 2
Lens: ($229)
EF 75-300mm F4-5.6 III Lens
Telephoto zoom lens, good for sports, wildlife, and portraits. Full-frame and DSLR compatible. For use with the Canon T7i, Mark IV, or BlackMagic cameras. Can also be used on the Canon M50 or EOS RP with an adapter (checked out separately).

Available: 2
Lens: ($169)
EF 50mm F1.8 Lens
Standard, good for portraits. For use with the Canon T7i, Mark IV, or BlackMagic cameras. Can also be used on the Canon M50 or EOS RP with an adapter (checked out separately).

Available: 4
Lens: ($110)
EF 85mm F1.8 Lens
Standard/short telephoto, good for portraits, and wildlife. For use with the Canon T7i, Mark IV, or BlackMagic cameras. Can also be used on the Canon M50 or EOS RP with an adapter (checked out separately).

Available: 1
Lens: ($409)
EF-M 11-22mm F4-5.6 Lens
Wide angle/Standard (18-35mm equivalent) good for landscapes, and architechture. For use with Canon M50.

Available: 2
Lens: ($399)
Sigma 18-300mm F3.5-6.3 Lens
Offers wide-angle coverage, telephoto reach, and close focus. For use with the Canon T7i, Mark IV, or BlackMagic cameras. Can also be used on the Canon M50 or EOS RP with an adapter (checked out separately).

Available: 2
Lens: ($559)
EF 24-70mm F2.8 Lens
General purpose lens. Close focusing, good for landscapes, portraits, macro, videography, travel, etc. General purpose lens. Close focusing, good for landscapes, portraits, macro, videography, travel, etc.

Available: 1
Lens: ($1,799)
Tamron 70-200mm Lens
Telephoto lens, great for indoor sports with low lighting. Short, medium, long telephoto . For use with the Canon T7i, Mark IV, or BlackMagic cameras. Can also be used on the Canon M50 or EOS RP with an adapter (checked out separately).

Available: 1
Lens: ($1,249)
Tamron 15-30mm F2.8 Lens
Wide-angle lens good for architechture, interior, real estate photography. Wide-angle lens good for architechtur, interior, real estate photography.

Available: 1
Lens: ($1,249)
Rokinon EF 12mm Fisheye 3.1 FF Lens


Fisheye lens with a 180 degree diagonal view, ultra-wide angle, distorted perspective. Good for group shots, interiors, landscapes, night-skies.

Available: 2
Lens: ($479)
EF 24mm F2.8 Lens
Wide angle, good for landscapes/nature. For use with the Canon T7i, Mark IV, or BlackMagic cameras. Can also be used on the Canon M50 or EOS RP with an adapter (checked out separately).

Available: 2
Lens: ($579)
EF 35mm F1.4L II USM Lens
Standard, good for portraits. For use with the Canon T7i, Mark IV, or BlackMagic cameras. Can also be used on the Canon M50 or EOS RP with an adapter (checked out separately).

Available: 1
Lens: ($1,699)
EF-EOS R Mount Adapter Control Ring


Mount Adapter Allows EF/EF-S Lens Compatibility with the EOS R Camera.

Available: 8
Lens: ($179)
Rokinon 24mm T1.5 High-Speed Cine DSX Canon RF Mount Len


Manual focus only. Wide angle, good for street and landscape videography. Can also be used for photography. For use with the Canon EOS RP camera.

Available: 2
Lens: ($642.60)
Rokinon 35mm T1.5 High-Speed Cine DSX Canon RF Mount Len


Manual focus only. Standard, good for portraits, landscapes, and nature videography. Can also be used for photography. For use with the Canon EOS RP camera.

Available: 2
Lens: ($527.30)
Rokinon 50mm T1.5 High-Speed Cine DSX Canon RF Mount Len


Manual focus only. Standard, good for portraits, landscapes, and nature videography. Can also be used for photography. For use with the Canon EOS RP camera.

Available: 2
Lens: ($447.70)
Rokinon 85mm T1.5 High-Speed Cine DSX Canon RF Mount Len


Manual focus only. Standard/short telephoto, good for portraits, and wildlife videography. Can also be used for photography. For use with the Canon EOS RP camera.

Available: 2
Lens: ($367.16)
Rokinon 14mm Cine DS 6 Lens Kit with Canon EF Mount


Manual focus only. Super wide angle, good for street and landscape videography. Can also be used for photography. For use with the Canon T7i, Mark IV, or BlackMagic cameras. Can also be used on the Canon M50 or EOS RP with an adapter (checked out separately).

Available: 2
Lens: ($297.51)
Rokinon 24mm Cine DS 6 Lens Kit with Canon EF Mount


Manual focus only. Wide angle, good for street and landscape videography. Can also be used for photography. For use with the Canon T7i, Mark IV, or BlackMagic cameras. Can also be used on the Canon M50 or EOS RP with an adapter (checked out separately).

Available: 2
Lens: ($546.26)
Rokinon 35mm Cine DS 6 Lens Kit with Canon EF Mount


Manual focus only. Standard, good for portraits, landscapes, and nature videography. Can also be used for photography. For use with the Canon T7i, Mark IV, or BlackMagic cameras. Can also be used on the Canon M50 or EOS RP with an adapter (checked out separately).

Available: 2
Lens: ($496.51)
Rokinon50mm Cine DS 6 Lens Kit with Canon EF Mount


Manual focus only. Standard, good for portraits, landscapes, and nature videography. Can also be used for photography. For use with the Canon T7i, Mark IV, or BlackMagic cameras. Can also be used on the Canon M50 or EOS RP with an adapter (checked out separately).

Available: 2
Lens: ($397.01)
Rokinon 85mm Cine DS 6 Lens Kit with Canon EF Mount


Manual focus only. Standard/short telephoto, good for portraits, and wildlife videography. Can also be used for photography. For use with the Canon T7i, Mark IV, or BlackMagic cameras. Can also be used on the Canon M50 or EOS RP with an adapter (checked out separately).

Available: 2
Lens: ($267.66)
Rokinon 135mm Cine DS 6 Lens Kit with Canon EF Mount


Manual focus only. Telephoto, good for portraits, and wildlife videography. Can also be used for photography. For use with the Canon T7i, Mark IV, or BlackMagic cameras. Can also be used on the Canon M50 or EOS RP with an adapter (checked out separately).

Available: 2
Lens: ($456.71)
Canon EF 24-105mm f/4L IS II USM Lens


Telephoto lens, great for indoor sports with low lighting. Short, medium, long telephoto. For use with the Canon T7i, Mark IV, or BlackMagic cameras. Can also be used on the Canon M50 or EOS RP with an adapter (checked out separately).

Available: 1
Lens: ($1,292.51)
Canon EF 16-35mm f/4L IS USM Lens


Wide-angle lens good for architechture, interior, real estate photography. For use with the Canon T7i, Mark IV, or BlackMagic cameras. Can also be used on the Canon M50 or EOS RP with an adapter (checked out separately).

Available: 1
Lens: ($1,292.51)
Canon EF-S 55-250mm f/4-5.6 IS STM Lens


Telephoto lens, great for indoor sports with low lighting. Short, medium, long telephoto. For use with the Canon T7i, Mark IV, or BlackMagic cameras. Can also be used on the Canon M50 or EOS RP with an adapter (checked out separately).

Available: 2
Lens: ($275.40)
Canon EF-S 10-18mm f/4.5-5.6 IS STM Lens


Wide-angle lens good for architechture, interior, real estate photography. For use with the Canon T7i, Mark IV, or BlackMagic cameras. Can also be used on the Canon M50 or EOS RP with an adapter (checked out separately).

Available: 2
Lens: ($297.51)
---