Local History
---
Archival Collections
These materials encompass unique and largely unpublished family papers and diaries, personal papers of civic figures, scrapbook and photograph collections, ephemera gathered on a particular subject, records of local organizations and businesses, and more. Browse collection guides in the Online Archive of California. Some archival collections are stored off-site and must be requested in advance for use at the History & Genealogy Library. Learn more.
Maps
View the Guide to Historical Maps for an overview of the on-site collection that includes county atlases, street maps, Sanborn maps, and USGS topographical maps. The library also holds hard copies of Santa Rosa Sanborn Fire Insurance Maps for the years 1893, 1897, 1908 and 1954/1957. Our flagship is the Henry N. Wallace and Marshall M. Wallace Collection, which also features architectural drawings, surveys, building specifications, and the field notes of Sonoma County-based civil engineers and surveyors Henry N. and Marshall M. Wallace. Stored off-site, this collection has improved access. Learn more.
Newspapers
The History & Genealogy Library provides access to an extensive collection of newspapers on microfilm, including the main county newspaper—The Press Democrat—and town-specific papers such as The Windsor Times, the Sonoma Index-Tribune, and more. View the Guide to Historical Newspapers on Microfilm. Most of these local newspapers have been digitized and are searchable in the databases listed under eResources below.
Photographic Materials
The library has a rich collection of historical photographs and postcards depicting life and history in Sonoma County from the 1860s to the present. The majority of these images have been digitized and are available to view or download in the library's Digital Collections. Major collections include commercial photographer Don Meacham's photographs and local historian and journalist Gaye LeBaron's historical photographs. At the library, researchers can also view a unique collection of Sonoma County Assessor's aerial photographs from 1961, 1971, 1980, 1900, and 2000.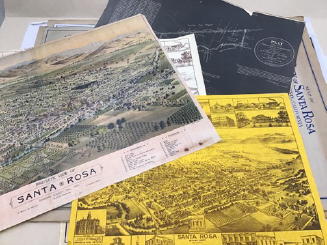 California Indian Library Collection (CILC)
CILC began as a project in the 1980s to distribute resources on California's Native American tribes in public libraries to enhance access for local Indigenous communities. The History & Genealogy Library's CILC comprises copies of journal articles, photographs, and sound recordings of local tribes (Coast Miwok, Kashaya Pomo, Pomo, Sinkyone, Wappo, Wintun, Yurok) from the research collections of the UC Berkeley Phoebe A. Hearst Museum of Anthropology. Consult the two-volume Finding Guide at the library for more detail. Some sound recordings are also accessible through California Language Archive.
eResources
See the full list of online resources for historical research.
Check out our video tutorials in the library's Digital Collections Research Guides (also available from the Sonoma County Library YouTube Channel):