Calling All Teen Filmmakers!
---
Sonoma County Library is having its second annual SCL Teenage Film Festival! Are you an amateur filmmaker? Has TikTok or YouTube awakened your passion for cinema? All Sonoma County teens ages 12 to 19 are invited to compete. Take some time over the winter break to shoot and edit your own 6-minute masterpiece. A jury will review all submitted entries and select films screened at the festival. Prizes will be awarded for the top films.
Accepting submissions June 1, 2022 through July 31, 2022:
https://filmfreeway.com/SCLTeenFilmFestival
Teen Film Festival Premiere on Wednesday August 31, 7:00 pm – 8:00 pm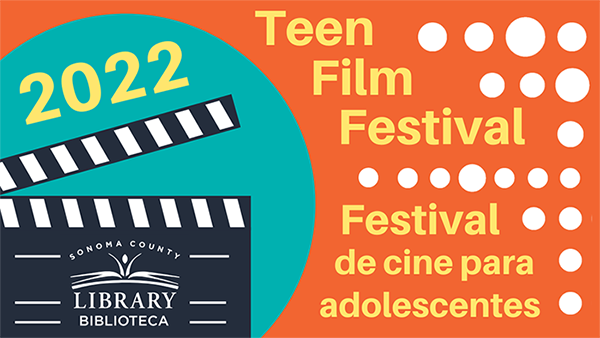 ---
Official Rules
All short films must be written, directed, and edited by teens ages 12 to 19.
The filmmaker/director must be a resident of Sonoma County.
All entries must be teen-produced, and may be either a group project or individual work.
Adult guidance and instruction are permissible, but the planning and production must reflect teen effort. Note, however, that adults may act in and assist with your film.
Films may be on any topic, but must be G or PG rated in language and subject matter, as defined by the Motion Pictures Association, or they will be disqualified.

G – General Audiences
All ages admitted. Nothing that would offend parents for viewing by children.

PG – Parental Guidance Suggested
Some material may not be suitable for children. Parents urged to give "parental guidance". May contain some material parents might not like for their young children.

Title pages and credits should be included in your film.
Unless relevant to the plot, please do not include bloopers in your submitted film.
Films may be no more than 6 minutes in length including credits.
Use of sound or video clips from other films, television shows, music videos, etc. within your submitted work is not permitted unless those clips are in the public domain or you have received written permission from the copyright holder. This includes the use of trademarked products or characters.
Filmmakers can also use their own original music. Additionally, copyright-free, public domain, trade-friendly or creative commons copyright music can be used.
Each filmmaker may submit up to two, and no more than, two films.
All new footage should be made while following Sonoma County's social distancing guidelines.
---
Legal Disclaimers:
By entering your film into the Sonoma County Library Teen Film Festival, the applicant agrees to all rules and regulations as defined in the official festival rules.
The applicant also grants a non-exclusive license, throughout the world and in perpetuity, to the Library to:
Show their film to a non-paying public at a future Sonoma County Library Teen Film Festival, other partner festivals and promotional events.
Display the film, in part or in its entirety, on the Sonoma County Library website, video streaming websites, and/or Sonoma County Library website and Facebook page.