StoryWalks
---
Books in nature? What a novel idea! A walk in the park takes on a new meaning with StoryWalks.
toryWalks are an innovative and interactive experience, encouraging readers of all ages to enjoy a story and the outdoors. Pages from a children's picture book are displayed along an outdoor path in a park, garden, or other outdoor setting. As participants walk along the path, they see the next pages in the story.
StoryWalks engage young readers and are an excellent way to practice reading, with special activities highlighted with the story. StoryWalks encourage your family to enjoy the beauty of nature, a good story, and quality time together.
StoryWalks engage young readers and is a great way to practice Active Reading skills with special activities highlighted along the story.
Share your StoryWalk experience on social media using the hashtags #SonomaCountyLibrary and #StoryWalk.
The StoryWalk Project was created by Anne Ferguson of Montpelier, Vermont, and developed in collaboration with the Vermont Bicycle and Pedestrian Coalition and the Kellogg Hubbard Library. StoryWalk trails are in all 50 states as well as 11 other countries including Bermuda, Canada, England, Germany, Malaysia, Pakistan, and Russia.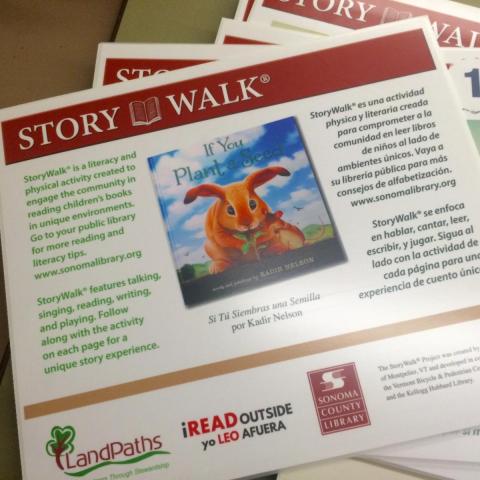 ---
StoryWalks 2023
September – December, 2023
Outside Petaluma Library
Moon Rope: a Peruvian Folktale
by Lois Ehlert
June – September, 2023
Bayer Farm (Roseland)
Following Papa's Song
by Gianna Manino
---
Past StoryWalk 2023
April – September, 2023
Outside Petaluma Library
My colors, My World
by Maya Christina Gonzalez
April – June, 2023
Bayer Farm (Roseland)
Lucero/ Bright Star
by Yuyi Morales
Past StoryWalks 2022
October 2022
Bayer Farm (Roseland)
My Colors, My World
by Maya Christina Gonzalez
September & October 2022
Taylor Mountain Regional Park
(Santa Rosa)
My Colors, My World
by Maya Christina Gonzalez
Life
by Cynthia Rylant /
La Vida
por Cynthia Rylant
June - October 2022
Outside the Petaluma Library
Following Papa's Song
by Marino, Gianna (local Author)
May, June & July 2022
Andy's Unity Park (Roseland)
Mis Colores
March & April 2022
Rincon Valley Community Park
(Santa Rosa)
In the Small, Small Pond
Spring Lake Regional Park (Santa Rosa)
Agua Agüita
February 2022 - Present
Outside Sebastopol Regional Library
S is for Sebastopol
February 2022 -
Bayer Farm (Roseland)
If You Plant a Seed
Past StoryWalks 2021
November 2021 -
Outside Petaluma Library
Winter Dance
September 2021
Bayer Farm (Roseland)
I know the River Loves Me
March 2021 -
Outside Petaluma Library
Tortillas Are Round
July 2021
Laguna de Santa Rosa Park
S is for Sebastopol
Giorgi Park (Healdsburg)
Hello, Little One
May - June 2021
Doran Beach Regional Park
Shine
June 2021
Badger Park (Healdsburg)
I Know the River Loves Me
April - May 2021
Ragle Ranch Regional Park
Woodpecker Wham
March - April 2021
Bayer Farm (Roseland)
Call Me Tree
October 2020 - March 2021
Outside Petaluma Library
If You Plant a Seed
January - February 2021
Bayer Farm (Roseland)
Tortillas are Round
December 2020 - January 2021
Windsor Town Green
Winter Dance
Past StoryWalks 2020
October - November 2020
Windsor Town Green
Tortillas are Round
October 2020
Ongoing - Outside Petaluma Library
If You Plant a Seed
---
Past StoryWalks 2019
September 2019
Sonoma Valley Regional Park (Sonoma)
Woodpecker Wham
June 2019
Maxwell Farms Regional Park (Cloverdale)
I Know the River Loves Me
May 2019
Outside Sebastopol Library
Call Me Tree
---
Past StoryWalks 2018
August 2018
Gualala Point Regional Park
(north coast)
Shine
June 2018
Gualala Point Regional Park
(north coast)
Following Papa's Song
---
Past StoryWalks 2017
September 2017
Foothills Regional Park (Windsor)
Because of an Acorn
May 2017
Spring Lake Regional Park (Santa Rosa)
In the Small, Small Pond
March 2017
Crane Creek Regional Park
(Rohnert Park)
Call Me Tree
---
Past StoryWalks 2016
July 2016
Bayer Farm (Santa Rosa)
If You Plant a Seed