Student OneCards
---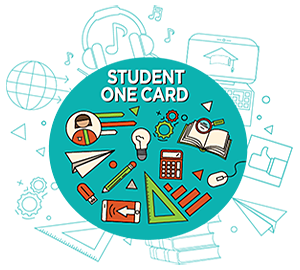 Through the Student OneCard initiative, students can use their school ID numbers to access library resources that support their education. Students in participating school districts automatically have Student OneCards, and can access library resources anytime, anywhere!
For schools and school districts that do not have the Student OneCard service, we offer tools to host a library card drive at your school.
---
What is the Student OneCard Program?
Through the Student OneCard initiative:
All students in participating school districts use their student ID numbers as Sonoma County Library accounts
Students have access to all Sonoma County Library online resources (except for Discover & Go and LinkedIn Learning)
Students are automatically enrolled in the program unless a parent chooses to opt out
The library will waive up to two lost or damaged items per Student OneCard account per school year. Patrons are responsible for fees on lost or damaged books for items exceeding the two-item limit.
How to use the Student OneCard on the Sonoma County Library website
When prompted for your library card number, use the prefix assigned to your school district in front of your student ID number (e.g., srcs123456)
If asked for a PIN, use the four numbers of your year of birth
Ask your teacher if you do not know your ID number
The Student OneCard grants access to:
Note: Parents are responsible for their children's use of library resources.
How to opt out
If you do not want your child to have access to library resources, you may opt out. Click one of the links below for an opt-out form, which you can print, sign, and return to your school. Please note that students who opt out of the Student OneCard will only be able to participate in classroom use of library resources if they have a Sonoma County Library general card and know the full card number and PIN.
---
Frequently Asked Questions
Q: What student information does the school district share with the library?
A: The school district shares the student's name, school name, student ID number, school address and phone number, and the student's date of birth. Sonoma County Library does not share student information, ever.
Q: What items may NOT be checked out or used with a Student OneCard?
A: Student OneCard accounts may not check out video games, ChromeKits, or hotspots. Online resources Discover & Go and LinkedIn Learning are not accessible with a Student OneCard.
Q: What if I want my child to have full access to Sonoma County Library services and materials?
A: A general Sonoma County Library card, available at any branch, offers full access to library services and materials.
Q: What if my child already has a Sonoma County Library card?
A: That's great! We encourage students to have a regular library card and a Student OneCard. The Student OneCard increases access to library resources to help your child succeed in school. Whether using a Student OneCard account or a general Sonoma County Library card, your child will be able to use library resources at school and at home.
Q: What if I don't want my child to take part in the Student OneCard Program?
A: Opt-out forms are available online (downloadable PDF in ENGLISH and SPANISH).