Affordable Housing Week
---
May 7-13: Affordable Housing Week at the
Rohnert Park–Cotati Regional Library
Did you know that your zip code is one of the most important data points to predict individual and families' success, from educational outcomes, health factors, and opportunity to thrive?
As Matthew Desmond wrote in "Evicted: Poverty and Profit in the American City,"
"The home is the wellspring of personhood. It is where our identity takes root and blossoms, where as children, we imagine, play, and question, and as adolescents, we retreat and try. As we grow older, we hope to settle into a place to raise a family or pursue work. When we try to understand ourselves, we often begin by considering the kind of home in which we were raised."
Access to safe, stable, affordable homes is one of the most important tools to create strong, thriving, equitable communities. Among the many stressors of the last few years facing Sonoma County residents, the increasing cost of housing intimately affects the health and safety of our families and communities. That is why the Rohnert Park – Cotati Regional Library is joining residents, community groups, and library systems from around the San Francisco Bay Area region to celebrate Affordable Housing Month.
At the library, we believe that Affordable Housing Month is about coming together to acknowledge the impact and necessity of safe and affordable homes for individuals, families, and communities. We intend to share information about the history of housing inequality and the efforts our communities can support to create equity.
From Monday, May 7 through Saturday, May 13, between 2-4 each day, the Rohnert Park – Cotati Library will host affordable housing organization representatives who can connect residents to more housing resources. Click here for more information. We will engage families with housing crafts and activities and share information through a book and information display.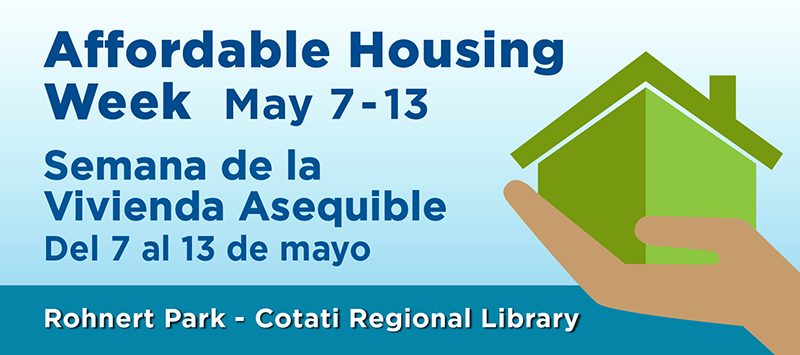 Imagine: A community where everyone sees you as their neighbor and where we are all stronger together for it!
Books Available from the Library
---
Other local Housing events:
Thursday, May 4, 2023, 1:00pm Sonoma County Housing Solutions Summit on Housing Solutions | Luther Burbank Center, Santa Rosa. Get tickets here: https://generationhousing.org/summit/
Saturday, May 6, 10:00am First Time Home Buyer Seminar. Century 21 Epic & Kind Lending | Rohnert Park – Cotati Regional Library (this program is not sponsored by the Sonoma County Library)
Thursday, May 18, 5:00pm Generation Housing Affordable Housing Month House Party | Crossroad Apartments, 841 Liana Dr, Santa Rosa: https://generationhousing.org/events/
Rohnert Park – Cotati and Countywide Resources Include:
For more information about the Bay Area's Affordable Housing Month celebration, you can also visit: www.affordablehousingmonth.org