Here + Queer, Sonoma County
---
---
Here + Queer, Sonoma County collects, archives, and amplifies the histories of Sonoma County's lesbian, gay, bisexual, transgender, and queer (LGBTQ+) communities. Throughout history, LGBTQ+ people have fought for equality, representation, and dignity in society.
Here + Queer strives to uncover the rich and dynamic stories of queer culture and activism, documenting the struggles and joys of queer life.
This project accepts digital content in the form of personal narratives, essays, anecdotes, photographs, creative works, audiovisual material, and more. The project actively seeks submissions from all ages and backgrounds, from all time periods in Sonoma County history. Anonymous submissions are supported.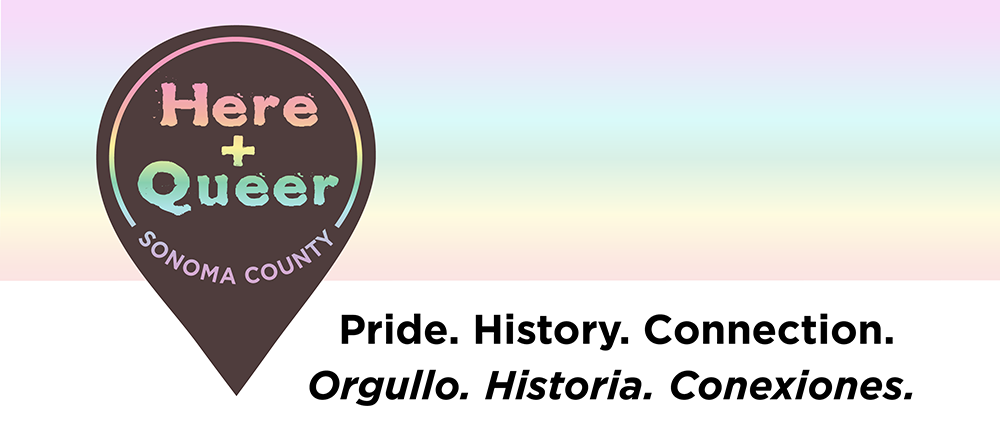 Contribute to the Here + Queer, Sonoma County
Your stories will empower, enrich, and deepen our understanding of queer communities. Share your pride. Reclaim your history. Connect with your community.
Contribute your original digital content, such as photographs, documents, personal narratives, artwork, ephemera. Upload max is 100MB. If your file(s) are larger than 100MB, contact queersonoma@sonomalibrary.org for assistance.
All submissions will be reviewed. Submissions are accepted based on the following criteria:
relevancy to the project's goal;
content is original and does not infringe on any known copyright restrictions;
does not violate confidentiality, privacy, security or other laws.
Accepted submissions will be made publicly accessible through the Library's Digital Collections within 1-3 months. Submissions will also be shared with the Library's online partners: the Online Archive of California, Calisphere, Internet Archive, and the Digital Public Library of America.
Terms & Conditions:
You retain your copyright and other intellectual property rights but grant the Library permission to preserve, publish, use, and distribute your submissions. Read the full Terms & Conditions here.
You may apply an optional Creative Commons Attribution-NonCommercial-ShareAlike 4.0 International license (CC BY NC-SA) to your submissions. Creative Commons allows others to adapt, transform, or build on your work, with the appropriate credit/attribution to you as the original creator. Read the full CC BY NC-SA license terms here. Read more about Creative Commons licenses here.
Contact the Here + Queer, Sonoma County team: queersonoma@sonomalibrary.org
What if I would like to donate physical material instead?
We welcome offers of personal collections of photographs, videos, diaries, and other ephemera that document queer local history. Contact history@sonomalibrary.org with your name, contact information, and what you would like to donate.