Piano and the Central Music File
---
About The Piano
The Williams Overture 2 88-key console digital piano at the Central Branch was purchased with the generous support of the Sonoma County Public Library Foundation in 2018 and became available for public use in 2019. For more information, please see our policy below.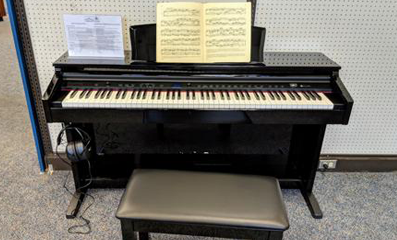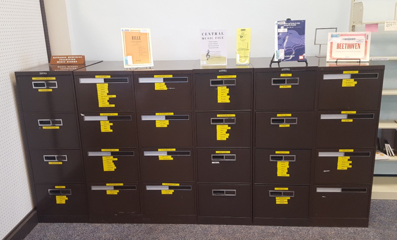 About the Central Music File
The Central Music File at the Central Branch contains over 1600 pieces of sheet music and methods. Genres includes classical, Broadway musicals, folk, jazz, country, pop, and rock. It was established in the 1970s in honor of Stephan Katsaros and was fully cataloged in the 2013. All items in the Central Music File can be found in our online catalog and can be placed on hold for other branches and checked out like normal library books.
Library Piano Use Policy
Who can use the piano?
Anyone! Please check in with staff before playing the piano.
Children 8 and younger playing the piano must be supervised by an adult.
You may reserve practice time on the piano for one hour up to one week in advance. You can request a reservation by phone. Dial (707) 308-3020 and press 4. We accept one reservation at a time, on a first come, first served basis.
Library staff reserve the right to restrict use, or ask to stop playing the piano, at any time. Patrons who violate library policy may be restricted from using the piano.
Be respectful of other patrons wishing to play the piano.
Can I bring food or drink?
No food or drink on or near the piano-- sheet music only, please!
Can I sing along?
Sorry! No singing or other accompaniment to the piano. This is a library, and we do try and keep the space quiet.
Headphones must be used when playing the piano for the same reason. You may use ours or bring your own.
Anything else?
---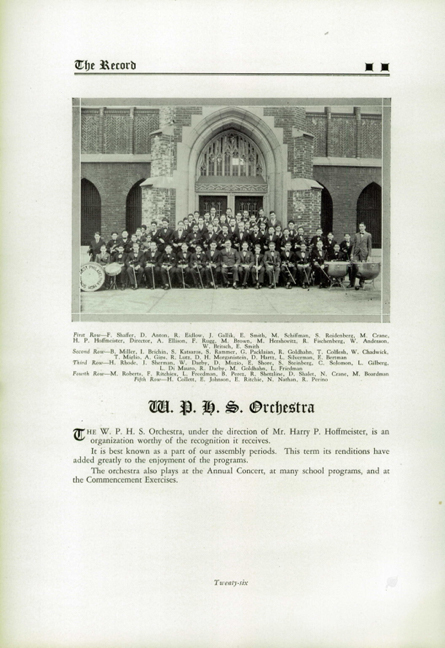 West Philadelphia High School Orchestra, c. 1932. Image courtesy of Ancestry.com.
About Stephan Katsaros
Stephan Dmitri Katsaros, Jr. was born September 15th, 1915 in Philadelphia, Pennsylvania. His father, Stephen Katsaros, Sr., was an ethnic Greek immigrant who worked as a waiter, musician, and later as a music copyist for the WPA. Stephen Sr. was born in Ioannina, then part of the Ottoman Empire, and arrived at the port of New York in 1905 at age 15; he became a citizen in 1921 at age 30. His American-born mother, Anna Aldridge, was of working class English and Irish parentage and worked as a cashier in a grocery store before marrying Stephen. Stephan was the eldest of four children, and was Stephen and Anna's only son.
In his teens, Stephan played viola in West Philadelphia High School Orchestra in the early-1930s and studied privately with Max Aronoff. In 1935 he auditioned for admittance to the Curtis Institute of Music, where Aronoff had graduated and later worked as viola instructor. Aronoff deemed him "not ready" and auditioned again two years later, this time successfully, and went on to study under both Aronoff and Louis Bailly. Sadly, Stephan suffered physically during his studies; a doctor's note to Aronoff states that his fourth finger was atrophied, "brought about by an interrupted nerve control to the blood circulation of the muscle." He was unable to attend lessons from November 1940 to February 1941. Both Aronoff and Stephen's doctor recommended he "turn his attention to another field insomuch as his health and age were drawbacks to great success." While Stephan did dropout, he did not give up on music.
The Curtis Institute of Music Radio Program, c. 1939. Image courtesy of the Curtis Institute of Music Archives.
After marrying Beatrice Blass in October, 1941 in Delaware, he moved west. His marriage to Beatrice was short-lived, and he went on to marry Vallejo-born Jeanne Rainier, with whom he had two daughters, Stephani and Athena. He played in San Francisco Big Band groups in the 1940s, including that of Dick Jurgens, whose band had a residency at the St. Francis Hotel. By 1948, he started his seventeen-year tenure as a violist in the San Francisco Symphony, playing under the direction of a number of conductors, including Pierre Monteaux, Enrique Jorda, and Josef Krips.
Programa de la Orquesta de la Sinfonía de San Francisco, alrededor de 1948-1949. Imagen proveída por la cortesía de los Archivos de la Sinfonía de San Francisco.
In 1966, Stephan retired to a house on Oak St. in Santa Rosa. He continued to follow his passion for music by working in the Santa Rosa-Sonoma County Symphony as a violist, instructor, and assistant conductor until 1968. On May 28th of that year, Stephan experienced chest pain while painting in his garage and was admitted to Santa Rosa Memorial Hospital where he died of a heart attack that afternoon. He was 52 years old.
San Francisco Symphony Orchestra concert program, c. 1948-1949. Image courtesy of the San Francisco Symphony Archives.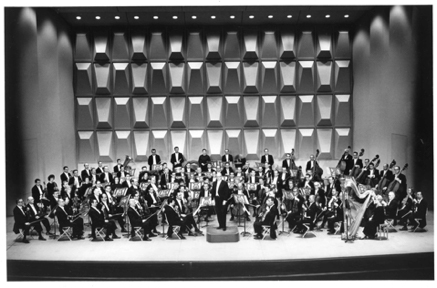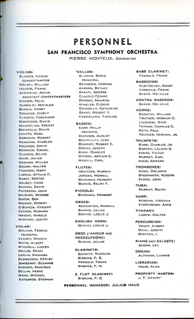 Though only in Santa Rosa for two years, Stephan made a strong impression. The year he passed away, the library Board of Trustees established the Stephan Katsaros Memorial Chamber Music Collection as in his memory. A series of concerts were held over ten years to fund the collection, both in the Central Library and at private homes.
Stephan Katsaros & Lorelei Carpenter, c. 1967. Image courtesy of the Press Democrat.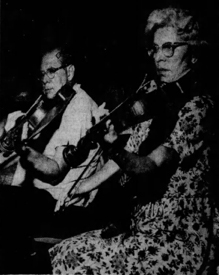 Special thanks to the Curtis Institute of Music Archives, the San Francisco Symphony Digital and Media Archives, Musicians Local 6, and the Sonoma County History & Genealogy Library for their assistance in researching Mr. Katsaros.
Mrs. Corrick Brown and Mrs. Thor Swanson look over the newly created Stephan Katsaros Memorial Chamber Music Collection, now the Central Music File, c. 1969. Image courtesy of the Press Democrat.