Send Our Seniors Mail
---
Are you at home and have spare time to share? Are your children looking for a craft to benefit the community? Please send positive cards, postcards, homemade cards, drawings, and encouraging letters to the addresses provided below. When received, the staff at the facilities will distribute the mail to those residents who need some happiness during this time.
Make sure your mail is legible, in large print, and handwritten. Keep your message positive, kind, and thoughtful. This is a one-way mail program so please do not include any requests for reciprocation.
We will keep adding addresses as they become available and if you know of a potential Send Our Seniors Mail facility, please email us at sendourseniorsmail@sonomalibrary.org.
Tag your creations on social media using #sendourseniorsmail.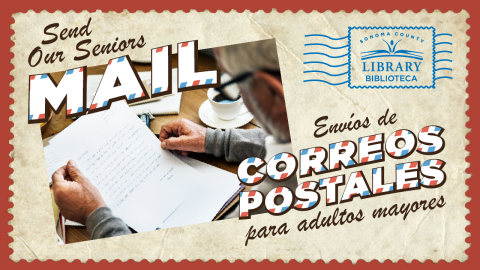 ---
Arbol Residences of Santa Rosa Senior Living
ATTN: Send Our Seniors Mail
300 Fountaingrove Pkwy
Santa Rosa CA 95403
Canterbury Home
ATTN: Send Our Seniors Mail
2630 Canterbury Dr.
Santa Rosa, CA 95405
Charles Street Village
ATTN: Send Our Seniors Mail
42 Charles Street
Cotati, CA 94931
Coastal Seniors
People helping people
ATTN: Send Our Seniors Mail
PO Box 437
Point Arena, CA 95468
Cogir of Rohnert Park Senior Living
ATTN: Send Our Seniors Mail
4855 Snyder Lane
Rohnert Park, CA 94928
Cogir of Sonoma Senior Living
ATTN: Send Our Seniors Mail
800 Oregon St.
Sonoma, CA 95476
Family House
ATTN: Send Our Seniors Mail
6084 Country Club Drive
Rohnert Park, CA 94928
FAHA Manor
ATTN: Send Our Seniors Mail
Resident c/o FAHA Manor Office
191 West Verano Avenue
Sonoma, CA 95476
Healdsburg Senior Living by Pacifica
ATTN: Send Our Seniors Mail
725 Grove St.
Healdsburg, CA 95448
Petaluma People Services Center
ATTN: Send Our Senior Mail
1500A Petaluma Blvd S.
Petaluma, CA 94952
Oak View of Sonoma Hills
ATTN: Send Our Senior Mail
1350 Oak View Circle
Rohnert Park, CA 94928
Redwood Retreat
ATTN: Send Our Seniors Mail
4988 Old Redwood Hwy
Santa Rosa, CA 95403
Russian River Senior Center
ATTN: Send Our Seniors Mail
15010 Armstrong Woods Rd
Guerneville, Ca 95446
Sarah's Senior Residential Care Facility
ATTN: Send Our Seniors Mail
1601 Clover Drive
Santa Rosa, CA 95401
Sarah's Retirement Home for DD Seniors
ATTN: Send Our Seniors Mail
791 McConnell Avenue
Santa Rosa, Ca 95404
Sonoma Hills Retirement
ATTN: Send Our Seniors Mail
405 W. MacArthur St.
Sonoma, CA 95476
Sonoma Post Acute
ATTN: Send Our Seniors Mail
678 2nd St. W.
Sonoma, CA 95476
Sunrise Senior Living of Petaluma
ATTN: Send Our Seniors Mail
815 Wood Sorrel Dr.
Petaluma, CA 94954
The Villas Assisted Living
ATTN: Send Our Seniors Mail
214 W 3rd St.
Cloverdale CA 95425
Tuscan Senior Homes of Santa Rosa
ATTN: Send Our Seniors Mail
1920 Grosse Ave.
Santa Rosa, CA 95404
---
Updated January 27, 2023