Celebrate Día de los Niños/Children's Day
---
Sonoma County Library Offers Events and Book Giveaways to Celebrate Día on April 30
Celebrate the diversity of our community with your kids by attending a free book- or zine-making event at the library in honor of El día de los niños/El día de los libros (Children's Day/Book Day), commonly known as Día.
Día is a celebration of children, families and reading that takes place every year in April. Libraries across the United States celebrate Día, emphasizing the importance of literacy for children of all linguistic and cultural backgrounds.
"Celebrating Día is an expression of the library's daily commitment to connecting children and families with diverse books, languages and cultures. I am thrilled to offer this program to our communities," said Sonoma County Library Director Erika Thibault.
During the last week in April, every Sonoma County Library branch will provide materials for children (grades K-6) to make their own book using drawings, collage and photos at Mi Libro (My Book) events. Caregivers and children are welcome to collaborate to create their book. The library also invites teens (grades 7-12) to create their own zine at a Mini Zine Workshop. Through art and literacy, youth will feel a sense of pride and ownership when they complete their book or zine.
"Creating a book or zine of their very own gives kids the chance to develop early literacy skills that will make them lifelong readers and library lovers," said Petaluma Children's Librarian Michelle Santamaria.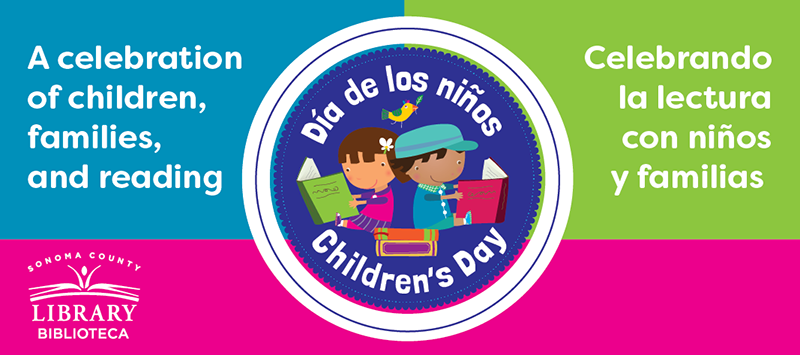 In honor of Día on April 30, every library branch will offer children a choice from a limited selection of free children's books to take home and keep on a first-come, first-served basis. This supports literacy through building home libraries and increasing access to books for children in our community.
Día events will take place at many libraries from April 27-April 30, so check out the Mi Libro event schedule and Mini Zine Workshop schedule online to register.
For media inquiries, please contact Sonoma County Library Communications Manager Ray Holley at rholley@sonomalibrary.org or 707-755-2014.