Petaluma History Room
---
---
A quick trip to Petaluma Market changed everything. I was there for only one item: Clover Sweet Cream Vanilla Ice Cream. A walk amongst the many ice cream options however, brought up only one Clover flavor; and it was not vanilla. Upon inquiring, market management shook their heads and remarked that there was going to be no more Clover ice cream. I was aghast. I was horrified; but mostly I was sad. A quick call from home later that afternoon to the company netted only a voicemail, so I left my inquiry with them. After dinner that evening, I bemoaned the possibility – probability! – that this was indeed my last bowl of Clover ice cream.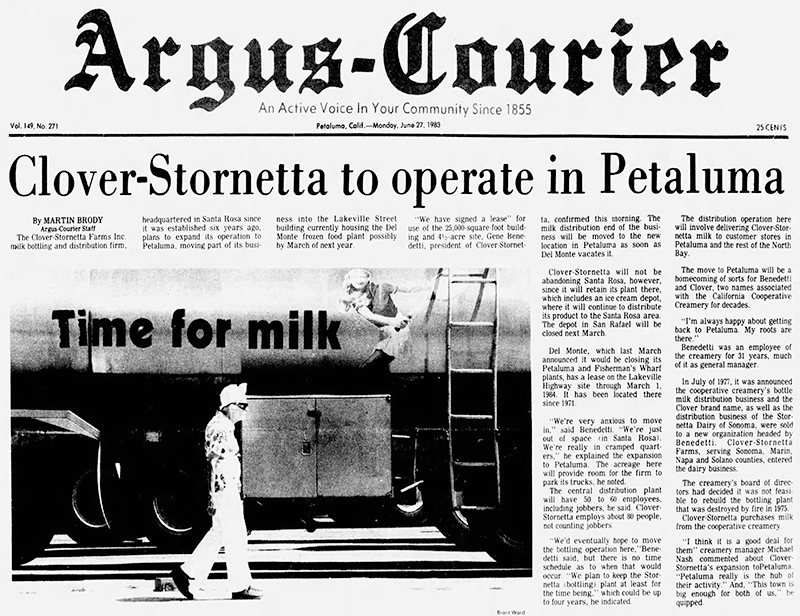 Introduced in the May 19, 1966 Argus-Courier, this "refreshing OLD TIME flavor" came to the market after a long time and with 'more than a little doing'. Delighting customers with the new easy to use ziptop opening and eight flavors, Clover was sure to have a winner.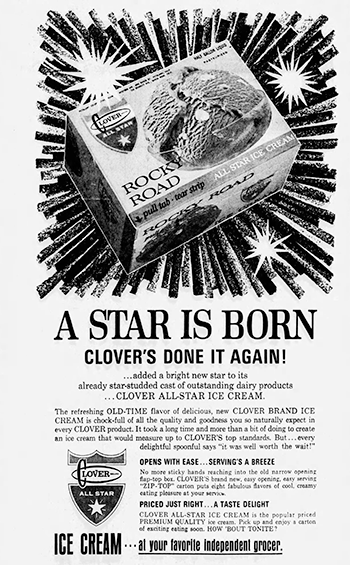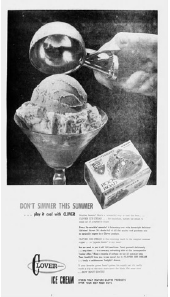 July 27, 1966
---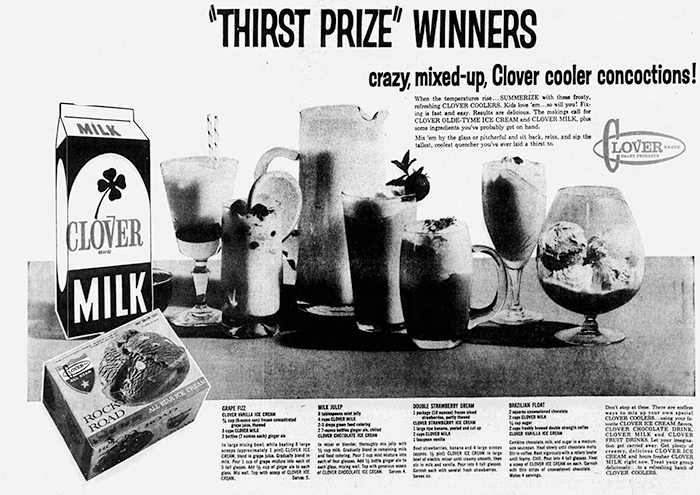 One way to encourage our ice cream habit is to provide recipes. Published on August 24, 1966, this list of recipes were sure to brighten up a hot August afternoon:
Double Strawberry Dream
Mix together: 1 package frozen strawberries, slightly thawed
Mix together: 4 scoops Clover vanilla ice cream
Mix together: 1 cut up ripe banana
Add: 2 cups Clover milk and 1 tsp vanilla
Mix thoroughly
Enjoy!
---
1967 brought even more new improvements to the packaging with the introduction of a modern new look:
On February 19, 1971, a new "old-fashioned" style flavor appeared. Called "country style" this recipe was "just like "Grandmoo used to make."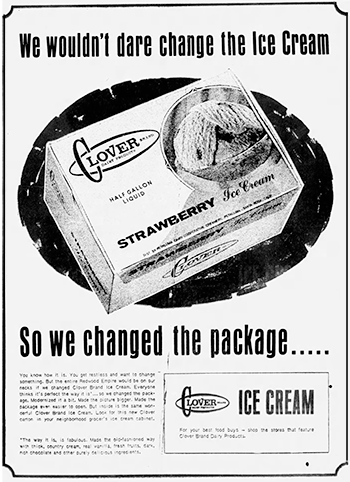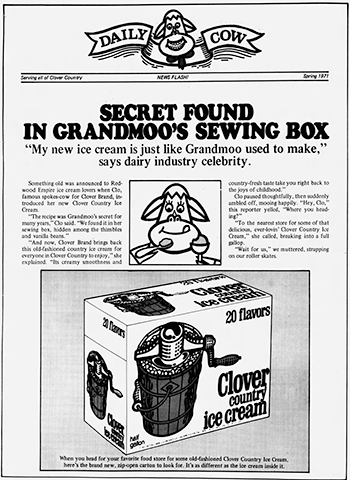 ---
But news about Clover ice cream wasn't only about changes in recipe or appearance. Clover ice cream became a part of our lives. Most of us remember the ice cream booth appearing at the county fair, parades, and other local events handing out mini ice cream cones.
On July 22, 1966, this article entices fairgoers to be sure to get their free sample of this new confection: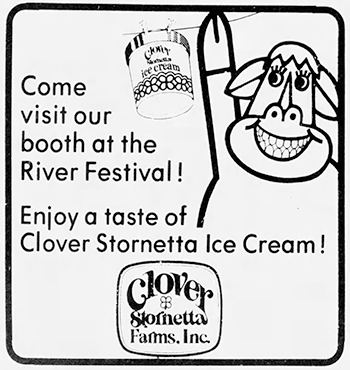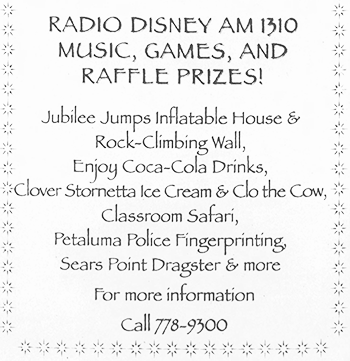 April 18, 2001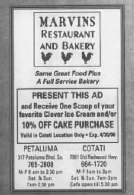 April 12, 2000

August 5, 1987
---
And because Clover is Clover… and they know how to have fun –in 2015 they introduced new flavors right in step with Petaluma happenings. "Petaluma Pothole"… an "ode to Rocky Road"… which might just as easily been an ode to Petaluma's "rocky roads".
A few days later.... confirmed . Don Frances of the Argus Courier, via Petaluma 360 on December 13, 2022.
Posted this headline
:

And while we know that there are many other tasty contenders out there, we will indeed, miss Clover Ice Cream and all that came with it.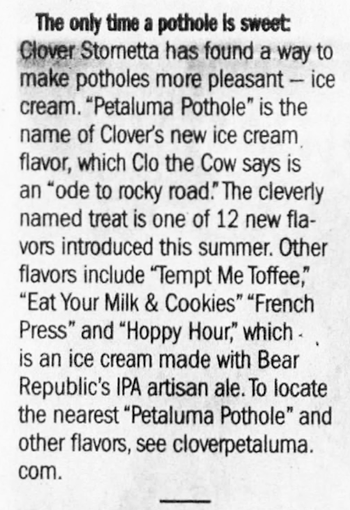 ---
Connie Williams
Petaluma History Room
Librarian
---
---
Bill Soberanes was probably Petaluma's most legendary character, known far and wide for his rapid-fire speech and quixotic mannerisms. His daily columns were legendary; filled with rambling thoughts highlighting local events from the famous to the mundane, with more than a splash of quirky. This year we mark his 100-year anniversary, and several historians, colleagues and admirers have stepped up to remember. Chris Samson highlights the mysterious way that Bill was able to insert himself into just about any event of the day. Fearless, full of bravado, it seemed Bill knew everyone and there was always someone who liked him well enough to bend a rule or two to give him access to the famous, or infamous, to get a picture with them. https://www.petaluma360.com/article/news/how-did-former-petaluma-argus-courier-columnist-collect-45000-photos-and/
John Sheehy has many personal remembrances of Bill throughout his childhood. John's story looks at those remembrances through his historian lens to show Bill as the eccentric, thoroughly human person he was. https://petalumahistorian.com/the-making-of-bill-soberanes-as-mr-petaluma/
Dianne Reber Hart gathered 13 fun facts for an overview of the impact Bill had on his friends, family and town: https://www.petaluma360.com/article/news/13-fun-facts-about-former-petaluma-argus-courier-celebrity-columnist-bill-s/?ref=related.
Harlan Osborne, in his "Toolin' Around Town" column notes his first remembrance of Bill is through his 2nd grade teacher: Miss Soberanes, Bill's sister. He continues his recollection noting the many activities Bill brought to Petaluma, and how he, as an Argus Courier contributor, was honored to be able to interview the many participants in the wrist wrestling contests through the years: https://www.petaluma360.com/article/entertainment/toolin-around-town-reflecting-on-former-petaluma-argus-courier-columnist/.
Katie Watts, a former reporter and editor for the Argus-Courier, Marin IJ and Press Democrat reminds us that "Did you read Bill today" was a common start to many Petaluma conversations: https://www.petaluma360.com/article/news/who-was-bill-soberanes-and-why-did-he-mean-so-much-to-petaluma/.
The Sonoma County Library holds many images from Bill's life including his birthplace on East Washington Street. Later, when he moved next door, he was often spotted by those driving or walking by, typing on the front porch, waving to or chatting with friends. As John tells it, Bill stopped driving after an automobile crash in his 20s. From then on, he walked. One could always spot him, pipe in mouth, bag slung across his shoulder heading, well, just about anywhere.
---
How much less enjoyable Petaluma would be without Bill's ability to include everyone "out there in Readerland" as an important part of the city, engaging our imaginations and creating or promoting long-lasting (and a few world-wide) events such as: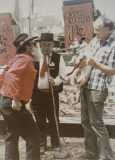 Old Adobe Fiesta and the World's Ugliest Dog contest, Sonoma County photo #042296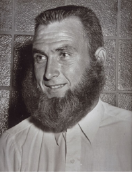 Whiskerino contest, Sonoma County photo #041668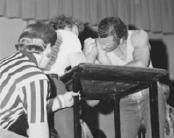 World-famous wristwrestling contest, Sonoma County photo #009313
---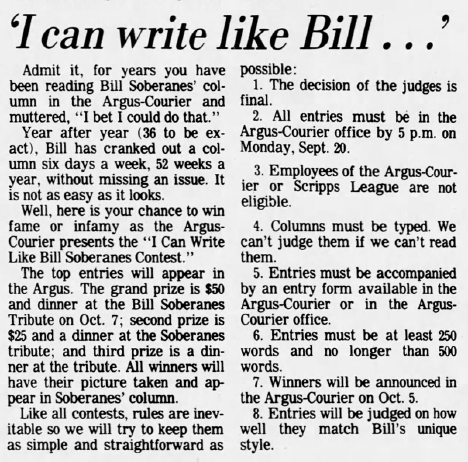 The Sonoma County Library newspapers.com August 17, 1988
Bill's unique writing style sparked a lively contest: "I can write like Bill Soberanes." Launched on Aug. 17, 1988 in the Argus, readers were invited to send in a column in the style of Bill Soberanes.
---


Charles Beavers


Ed Bridant
Three winners were chosen.
Here's an example from each:
---
To read the complete story use the library's newspapers.com; type in "write like Bill" in the subject bar then filter by: Petaluma, CA, October 14, 1988.
And finally… take some time to sit in with Jim Agius, Katie Watts, John Sheehy, Chris Samson, Chris Linnell, Harlan Osborne and Tom Gaffey as they gather to remember the Bill Soberanes they all knew.
This video is now a part of the Sonoma County Library Digital Collections. Find it: https://digital.sonomalibrary.org/Documents/Detail/a-celebration-of-bill-soberanes-on-his-100th-birthday/503246
Enjoy!
Connie Williams
Petaluma History Room Librarian
---
---